My archival source sends a document I cannot touch though I can see the sepia tones in the jpg he sent. I can only imagine how the original really looks and feels. I can only imagine how the original smells. After all, it is over 100 years old. The actual source of this document remains a mystery as I do not have contact with the person who accesses the document from an archive.
I do have on good authority that the document is in Russian script.
It is a marriage certificate from 1903.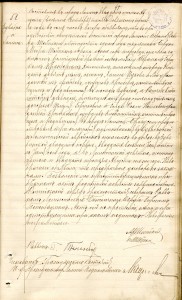 The young married couple was Abram Herszk Kronberg and Raszka Klejnsztejn, according to one translator (a second translator spells the names Abram Gertkom Krongberg and Raska Kleinshtein). Abram was a 29 year old "bachelor" from Jedwabne; his 17 year old bride was born and raised in Lomza.
Abram's parents were Chaim Ickowicz & Leja Fajbowna, spouses Kronberg.
Raska's parents were Szmul Herszkowicz & Golda Rochel Notkowna née Krimkiewicz, spouses Klejnsztejn.
There were 3 marriage banns or announcements of the impending marriage in two regional synagogues: it was announced 3 times in Jedwabne (June 21, 28, and July 5, 1903) and 3 times in Lomza (August 9, 16, 23 , 1903).
The wedding was held on September 8th (August 26, Julian), 1903 in Lomza at 7 o'clock in the evening.
Abram, the groom was my father Mendel's uncle on his mother's side. He was one of Priwa's brothers.
The couple figure in my father's narrative two times. The first time was when the Wasersztejn family was caught in the feverish aftermath of World War I. By then, Avram was a Polish war hero. He and Raska were thriving, according to my father's account.
"The woman and her five daughters followed Chajcia to the barn, peering at the sick family through a window" (p. 7).
The second time was much later. July 10, 1941 in Jedwabne (p. 86).
But before that date, they looked for help from relatives out of Europe: "The five sisters from Lomza, the mean Kromberg daughters who walked away from the Wasersteins dying of typhus in a barn—now they wanted help. 'Can you get us to Cuba?' they begged. This time the Wasersteins did nothing. It was their turn to look away" (p. 67).
Mendel believed Raska was culpable. He blamed her for neglecting his family in their time of desperate need. He held bitter feelings towards her. Later, when she needed help and Mendel didn't provide any, did he feel he had himself been neglectful, culpable, responsible? Or did Mendel simply believe Raska and her girls got what they deserved?
These stories beg a series of difficult questions. How do people bear the burdens of these kinds of responsibilities? And why are they put in the position to bear such responsibility in the first place? Does responsibility lie with them? Or does responsibility actually lie elsewhere? Are there forces bigger, wider, more invisible than individuals (and the ethnic groups to which they belong) that turn all them into collaborators and victims at the same time?